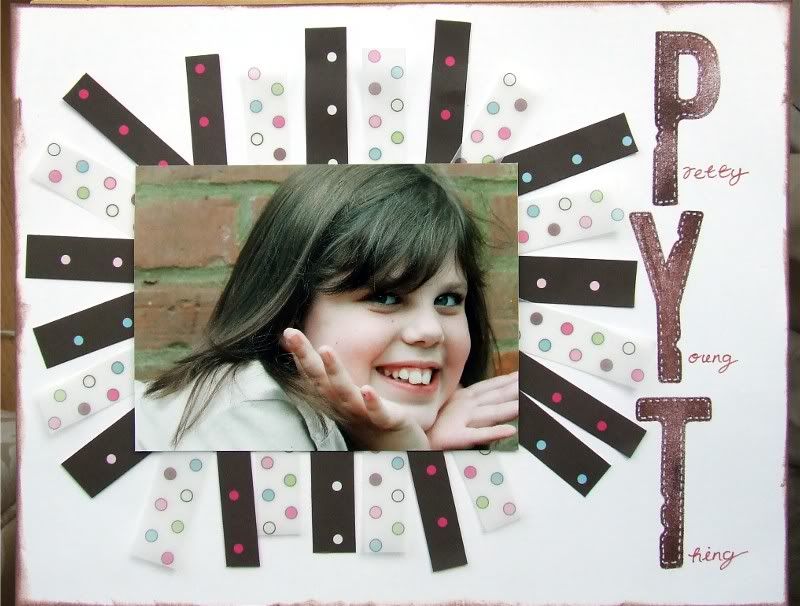 ..is the title of todays LO! Had to do a LO based on a song from the Michael Jackson album Thriller and this was the most obvious title to go for !
I'm finding this size scrapping so much quicker - not so much space to fill! Okay, so I'm a bit boring and always use white or black but I'm not the best when it comes to choosing co- ordinating cardstock and papers!
Ordered some more ribbon today from Little Silver Hat - sorry I still haven't sussed out how to do links. I bought some spotty ribbon in cream and brown a while ago 'just incase' I ever needed it....two cj entries later and it's all gone so I needed to replenish it ! And a few others fell in the basket too......!!
I've been at work today.I'd love to say I enjoyed it but I just don't feel that way about it at the mo......
Finished work and practically ran home as Em had a friend coming round an hour after I finished !
Poor Holly was up way too early this morning so bedtime was a totally dramatic affair! Managed to stop her tears by letting her dress up as a pirate after she'd got out of the bath (no, she was in such a state I didn't dare point a camera at her!!) but she was one tired sweetpea.....
Keep your fingers crossed for decent weather on Friday as we're hoping to take the girls out for the day!
Okay I'm off as it feels like I've been rambling on for ages!