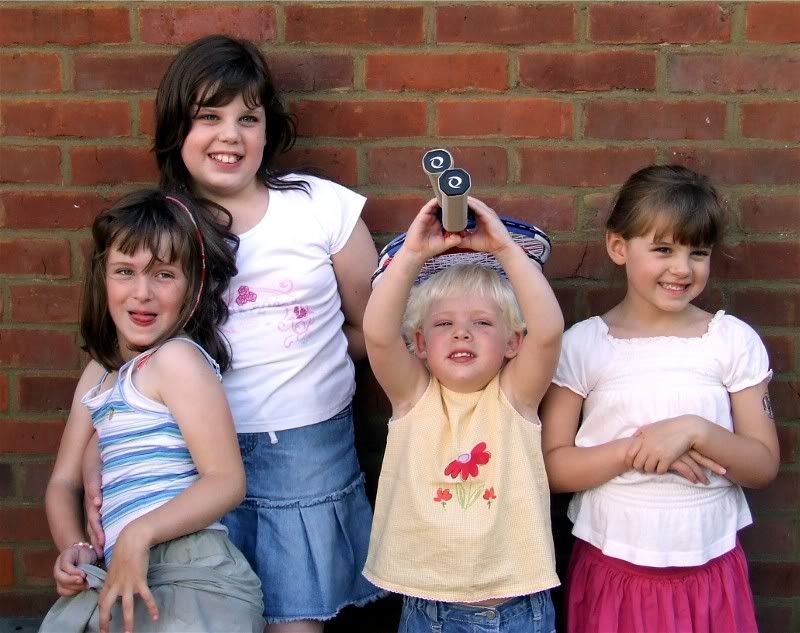 ...and what a fab bunch they are!
Had a fab day today with Anna and the girls. The photo session didn't go quite as planned but we got a couple of cute ones ! All four girls got on so well we didn't even know they were here most of the time!
And yes, Anna managed a bit of scrapping whilst I got the lunch ready!
We also sneaked in a quick trip to Asda where there were bargains to be had! Anna treated me to a fabby folder to keep my 8.5 x 11 LO's in.Also picked up some bargain enamelled charms - 30p for 2!! I have told Geoff I need a return trip next week!
Anna brought with her replenishment stocks of the gorgeous Sassafrass Lass Orange -a peel papers - yum!And I nicked two of her sample BIG Angel Kiss Daisy's - you neeeed these!
The postie brought me some yummy stuff today too! I got some more BG Gypsy papers plus the matching bazzill (cos I am rubbish at choosing it myself!).I also got a gorgeous year book from Kathryn as my cyber crop 'swap' as well as some glittery Lil' Davis chipboard - heaven. Thank you so much! And the lovely Suzanne (sorry, I still cannot suss out links!!) sent Holly a lovely Minnie Mouse PE bag.Don't you just love nice post?!
Photos are of the girls out in the garden this afternoon .
PS .Can anyone help me with why my photos always look so rubbish on here? Any help graefully received! At the moment I am resizing them and hosting on Photobucket.