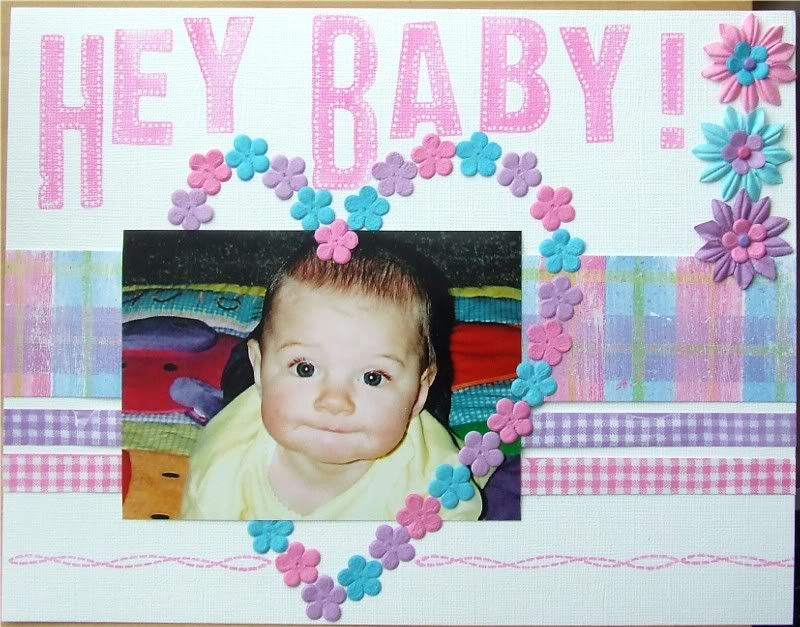 ...I did a tiny post yesterday and got 4 comments !?! Must have been the cute photo!
Weight loss update - just 1/2 lb off this week, but that's okay as I know I haven't been great at it this week. Went to the gym this morning again and even my instructor that checks my progress had noticed that I've lost a bit more :)
Anna, as soon as I can cover up by bodge of a title you can use the layout!
Got some delish chipboard this morning in the post - Lil' Davis glittery stuff in black -fab!! No scrapping done today as my sister's been round this evening but I will be cracking on with the cj's I have here tomorrow (as well as fixing the bodged LO!)
I promise I will scrap the photo of Holly with the sunflowers very soon.
Oh and Ali, I will keep my eyes peeled for that postie!
Lo today is one I've done for the Pad comp based on the song Hey Baby from Dirty Dancing.I've had this Bo Bunny paper for ages (I dashed out and bought it when I first started scrapping )so I'm glad I've finally used some of it!I wanted to do something less obvious but let't just say the ideas didn't work out ! Oh, and none of the stitching is real on this! The dots on the letters are white gel pen and the pink stitching is stamped!