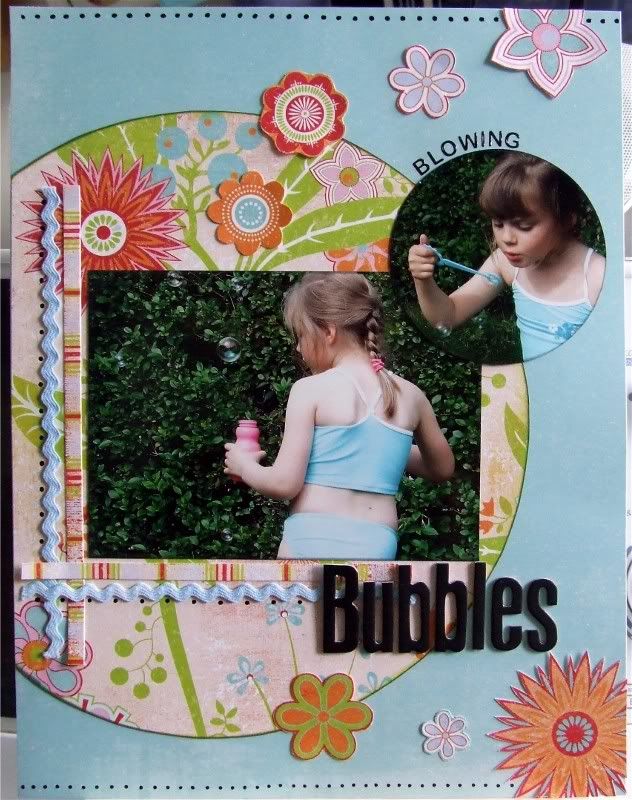 ..yep, I actually used some of my new BG papers the day I got them! I'm quite shocked! It's not that I don't like BG, but I buy it and then never know how to use it! But this one is so yum I think I may even need some more! My pic for today is the other LO I managed to do for a cyber crop this weekend. It's based on class by Debbie70/Daisy (using the BG papers!) Thanks to all those who 'taught' classes this weekend, I'm hoping to get more done at some point.And congratulations to all those who won prizes ;)
We haven't done much today, the weather has been a bit erratic! Bright sunshine one minute, chucking it down with rain the next. Did manage to take the girls round the block and to the park on their bikes though.It was Holly's first outing on her bike outside the garden since teaching herself how to ride it! Tomorrow we are off swimming then I have my 'exit' appointment at the gym in the afternoon (my final assessment thingy)...so I'll be knackered tomorrow!
I think Holly has just about caught up on her sleep now too!
I need to start tidying up as well as Anna is visiting on Friday with Izzy and Lilly! Fingers crossed for decent weather on Friday please!