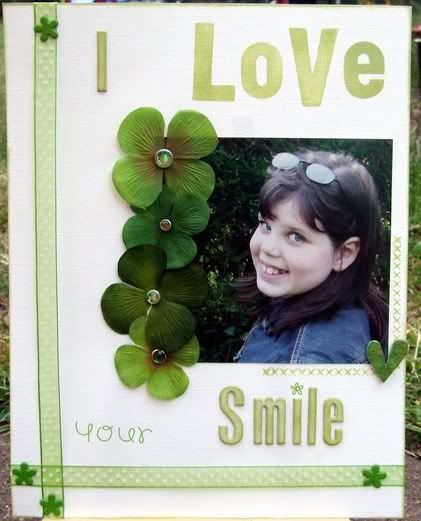 ...and in green! I don't really own much green PP or card stock even but I've recently taken to buying green embellies in the hope that I might get inspired to use them...and it's happened!! This is also my first A4 LO...yes, I'm copying everyone else!! Anyway, I'm really pleased with this, especially as some of the embellishments aren't 'scrapping' stuff! The green flowers are from a gift shop and had thin cotton attached to them - apparently they are meant to float in Punch bowls and the like! But Anna and I spotted their scrapping potential! The other little touch is the Charlie & Lola (I kid you not!!) confetti heart ! Those without CBeebies or small children probably have no idea who Charlie & Lola are , but let me assure you they are BIG in the world of small children!
I also got my Heidi Swapp Costco kit this morning (thanks Dawn!) - yum! Just got to try and use it subtley!! I used the chipboard letters and chalk inked them green for todays layout.
Also in the post I got two fab unmounted stamps by Stamps Away from Ali at Clevercut! I used the stitches one otday around the corner of the photo. Check out her website, she has loads of stamps at fab prices!
Not much planned for the weekend really. Em is off to be pampered at the hairdressers first thing in the morning and that's about it! My ,what exciting lives we lead...