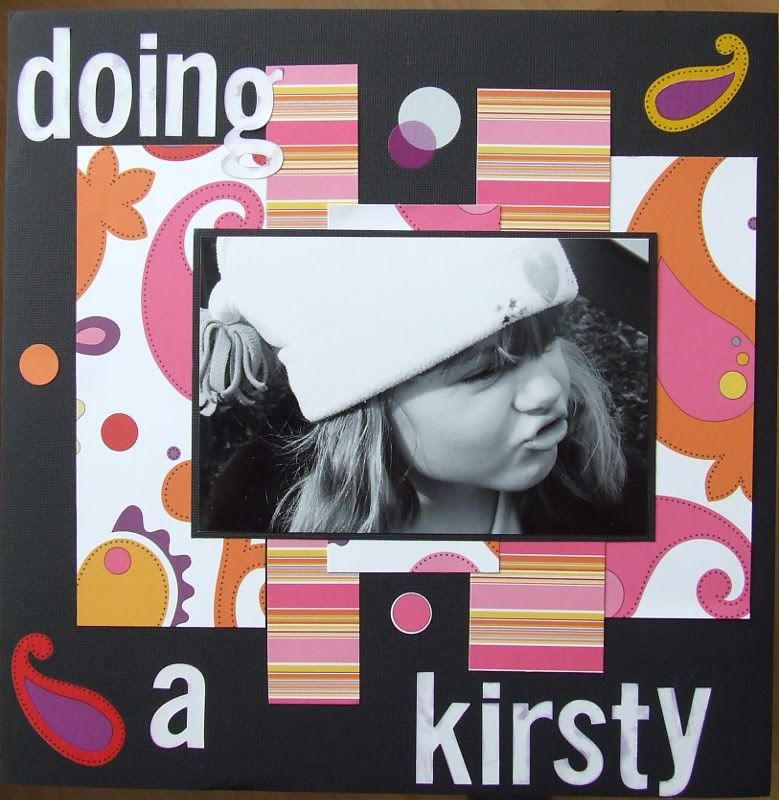 ...is what I feel like right now!! How women with three kids and a full time job cope I will never know...I cannot cope with two kids and a part time job! I feel like a bad mummy just now and I don't like it! However that said, I have all uniforms (mine and theirs!) ironed and ready for tomorrow morning so that is a step in the right direction!
Now I know I said I was going to do cj's etc last night ...but I changed my mind and did a LO I have been meaning to do for a while..love this photo of Holly!This is a little tribute to
Kirsty
.To explain, Kirsty used to have a blog banner of herself pulling this face, so whenever I was reading her blog,Holly would peer over my shoulder pulling said face!
I tried to take some photos of myself pulling daft faces for Kirsty's latest challenge..but to be honest they were just plain scary!! So I've deleted them!
Picked up a copy of the new Creative Scrapbooking mag today and it is just fab! Lots of shiny pages full of gorgeous Lo's and
Anna's
face on far too many pages ;)
Last day at work for me for this week tomorrow - woohoo!Hoping to fit in a trip to the gym first but they may have to wait til Friday...